HTS is a high efficiency desktop rapid prototyping system, it consists of gantry frame, platform movable along Y direction, worm extruder movable along direction X and Z, filament material feeding system, and control system. The extruder and the feeding system are driven by the same step motor. Once the external PC sends control signal the worm is driven by the step motor , meanwhile, the plastic filament is fed into the extruding cylinder through gears and roller mechanism. Then the plastic filament is melted by a heating rod embedded in the brass nozzle and deposited on the platform. The external PC calculates the cross section data alone Z direction of 3D model of object and the deposition path for each cross section. The deposition path data is then transferred to control system, each layer is built by the resultant motion of platform and extruder. After one layer is built, the extruder is raised a layer thickness (usually about 0.1 mm), the next layer is then build, the steps as above are repeated until the object is formed.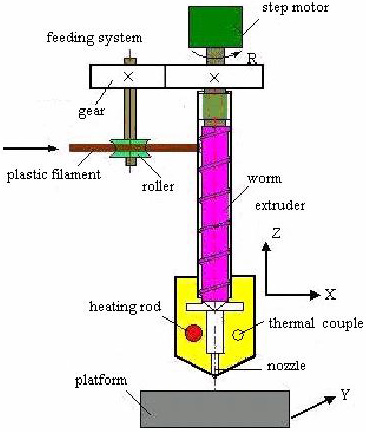 The schematic diagram of HTS desktop rapid prototyping system
The Characteristics
1. High pressure worm extruder, high form efficiency. It is possible to make high strength plastic object.
2. Ingenuity gantry frame, lower driven inertia, high speed.
3. Contour filling pattern, higher strength of formed object.
4. Small system volume, lower noise, lower vibration. It is suitable for office environment application.
5. Economic system makes it possible to be widely used for various industry.
The Specifications
Model
HTS-300
HTS-400
Build volume (mm)
280×250×300
360×320×400
Part accuracy (mm)
± 0.2
± 0.2
Drive system
X and Y axes:servo motor , precision ball screw, precision linear guide
Z axis:step motor, precision ball screw, precision linear guide
Temperature control system
Real-time temperature control system
Slicing software
HTS slicing software
Support structure software
Support auto generate
External computer
PC (with RS-232 port)
File input format
STL format
Material
Plastic filament, diameter 4 mm
Power
220V ,50Hz , 6 A
Environment requirement
Air condition
System size (mm)
950×820×900
950×820×1050
System weight (kg)
120
150
Samples